MAPPING a brand's journey
How we helped India's premier geospatial industry association position itself favourably with stakeholders through merchandising and other initiatives.
Background
Association of Geospatial Industries (AGI) was formed in 2009 with the objective of identifying and addressing common concerns of the Indian geospatial industry, and facilitating interactions among various stakeholders. In line with this objective, it was imperative that AGI succeed in bringing multiple stakeholders – government, industry, consultants, professionals and academia – on the same page, to enable more meaningful engagement for all.
AGI was seeking a partner who could help it achieve this objective.
Business Challenge
One of AGI's key challenges was the limited understanding of geospatial technologies that different stakeholders had. This hindered the conduct of fruitful discussions at various levels as well as the pace of growth of the geospatial industry in India
Client Brief
The client wanted us to help them spread greater awareness of the impact geospatial technologies could have in different areas, in order to create a basic shared understanding across stakeholders. This would then enable AGI to achieve its objectives in a phased manner. Also, AGI wanted a single service provider to help build their brand in a consistent manner over a period of 3-5 years.

Approach & Concept
Since 2013, we have worked on different aspects related to AGI's brand and communications – website, branding at industry events, social media, stakeholder communication and more. Across initiatives, we have attempted to create greater shared understanding about the potential of the geospatial industry in a creative, outside-in manner, attracting higher stakeholder interest than was in view before we came on board as AGI's brand partners.
One of our key initiatives has been the annual AGI calendar, appreciated by diverse stakeholders, and much in demand. The concepts for the calendars have evolved from Year 1 (2014) to Year 3 (2016), gradually deepening stakeholder understanding of the geospatial industry:
2014:

A sepia-toned look at life in the years gone by, and how geospatial technologies have made things better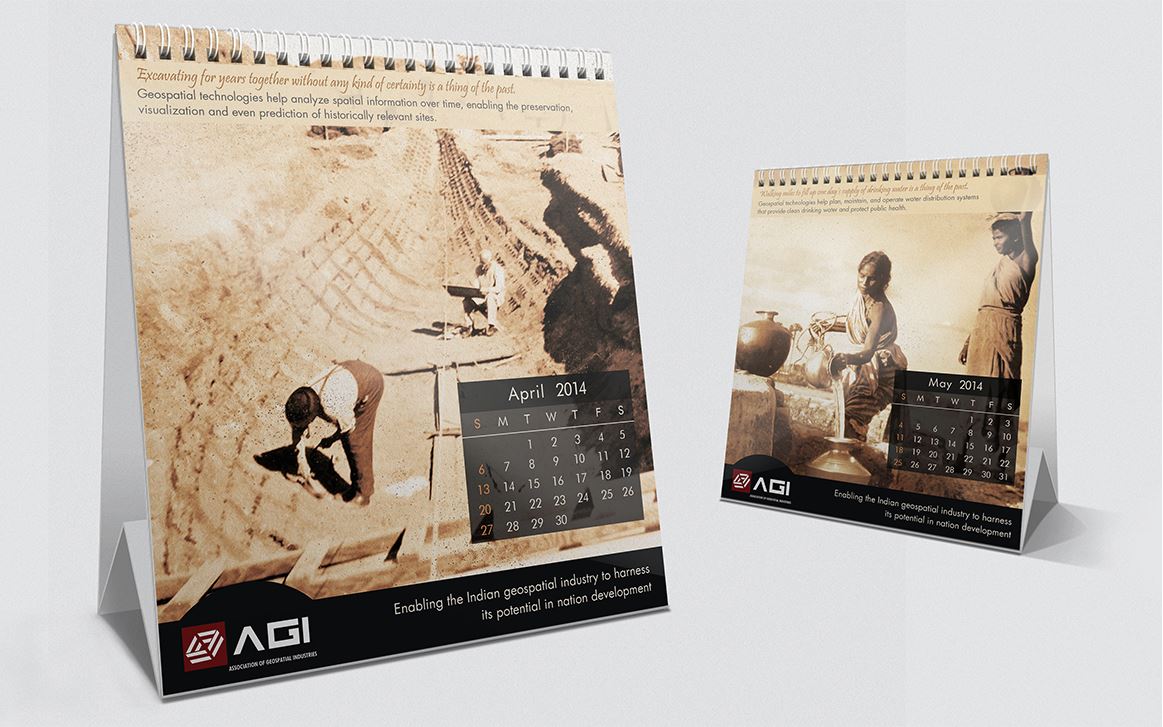 2015:

A page-wise listing of key initiatives of the new national government of India, and how geospatial technologies could help the government achieve its objectives (an approach that saw AGI get a foot in the door with several newly-apointed key government officials and bureaucrats)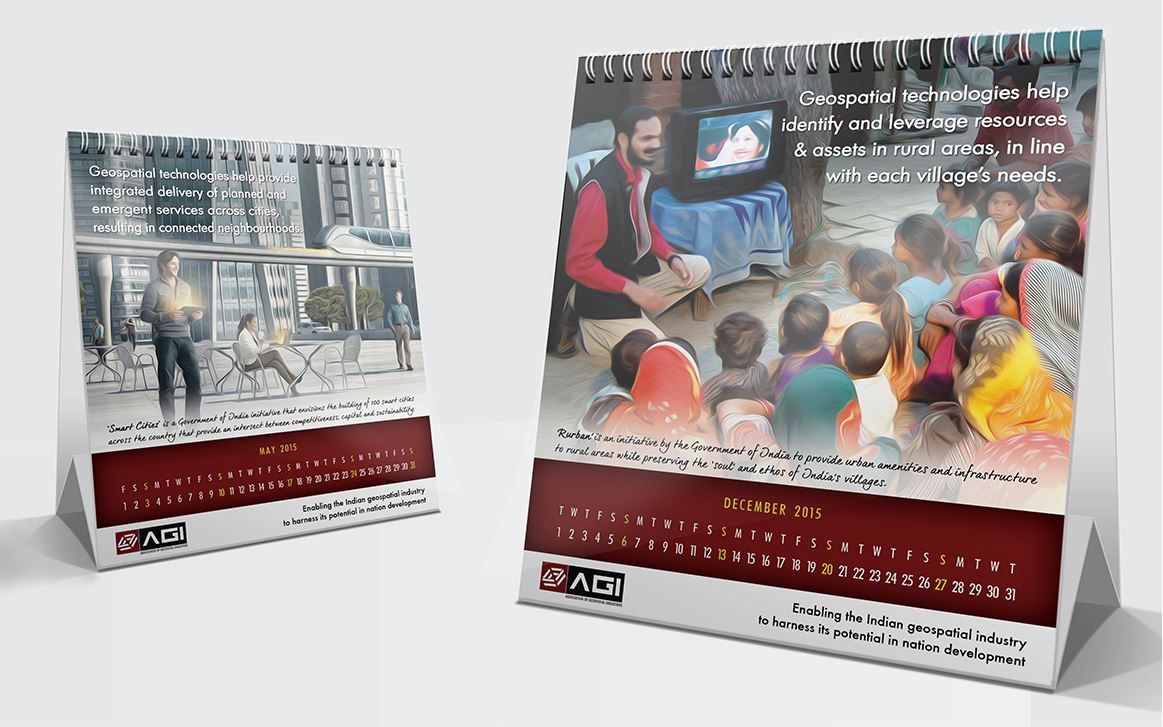 2016:

A more emotional, B2C approach, further simplifying geospatial technology for laymen, and helping AGI spread the net wider (in line with its goal of enlisting more members across sectors such as SMBs, start-ups, students and professionals)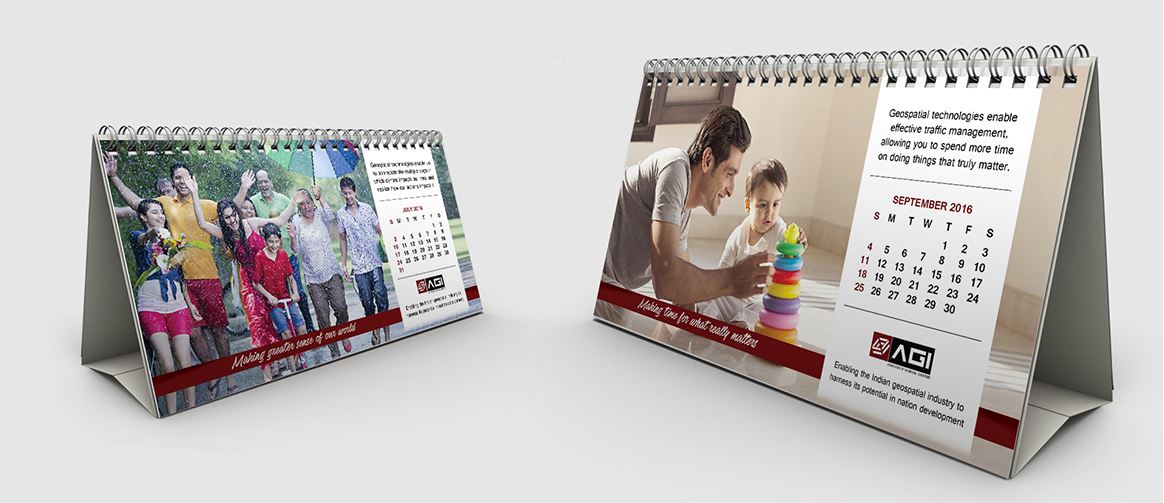 Results
Through a combination of consistent messaging, branding & communication initiatives, membership drives, networking events, workshops, knowledge-sharing and stakeholder engagement, AGI has come to be positioned as India's premier geospatial industry association. AGI's stakeholders have appreciated its strategic and well thought-out branding and communication initiatives, leading to high brand recognition and salience since an early stage of the industry body's existence.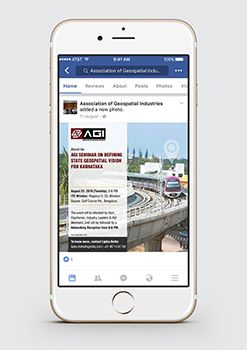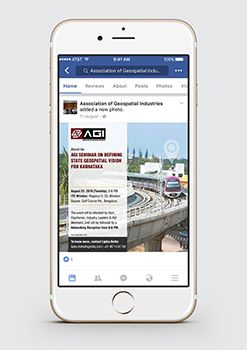 Testimonial
"At Association of Geospatial Industries, I brought White Cloud Brands in to help design and architect from scratch the brand and identity for the association. We wanted a clear differentiation from conventional industry bodies and they were instrumental in creating a forward looking vibrant image, which was then realised by them in our website, collaterals and all communication, consistently over a 4-year period. The White Cloud team has consistently delivered on tight schedules and tall expectations.
I would recommend White Cloud as an ideal partner for small to mid-sized companies which wish to create or revamp their brand identity as well as to large enterprises who wish to execute a program or project.
An ideal way to engage with White Cloud, I have found, is to involve them at the annual planning stage itself so that a clear, synergistic marketing and communication strategy is evolved which can then be executed seamlessly. This has helped bring in predictability as well as success in execution for the bulk of the initiatives, even though, they are excellent in also delivering on ad hoc time-bound projects."
Executive Director, Association of Geospatial Industries