CONVERSATIONS
Mrs. Shanta Dhananjayan & Mr. V P Dhananjayan

On the 5th of April, 2017, Sunrisers Hyderabad took on Royal Challengers Bangalore in the first match of IPL 2017. In between overs, this Vodafone ad sneaked in almost unnoticed. While Vodafone India had made a splash with the 'Zoozoos' over the previous nine years (since the start of their association with the IPL in 2008), those iconic characters had begun to lose their charm. Vodafone India needed a fresh concept to reignite their much-anticipated annual association with the IPL. Per se, this new TVC had none of the Vodafone India trademarks (the pug, the Zoozoos, Irrfan, Nawaz); just an aged couple on a railway platform searching for their cab driver.
However, what India witnessed over the next six weeks of the IPL, was ad magic at its best. One TVC after another took the couple's story forward over the duration of their stay. With their easy-going chemistry, sense of humour and adventurous attitude, the couple won the hearts of millions of people, broke stereotypes associated with senior citizens in ads, and ensured that Vodafone India had yet another blockbuster IPL.
In the first of our 'Conversations', we speak with Mrs. Shanta Dhananjayan and Mr. V.P. Dhananjayan, the real-life couple who played 'that cute couple from the Vodafone ads'. Not just was it an opportunity to interact with today's 'hottest' names in the Indian ad world, but an opportunity to learn about the other facets of their life – their association with Bharatanaatyam (for which they were awarded the Padma Bhushan in 2009), the secret behind their chemistry and their take on the role of advertising in shaping India's future.
Q. There is an unwritten rule that 'youth' brands usually cast young people in their ads. Telecom is certainly one such segment. In your opinion, what made the Vodafone campaign connect so beautifully with viewers across age groups?
A. What connected instantly with viewers was that Vodafone encourages senior citizens to be self-dependent and spend their retired life happily, moving around freely and inspiring youth to be like them – agile, vigilant, lively and happy-go-lucky. The 4G services of Vodafone help them undertake such independent travel.
Q. The Vodafone campaign shows a senior couple travelling by themselves comfortably, having fun, trying new things (parasailing, tattoos), etc. This clearly breaks the cliched portrayal of senior citizens in advertising. Do you see yourselves as role models for other senior citizens? Also, what is your opinion on the role of advertising in changing public perception and influencing society?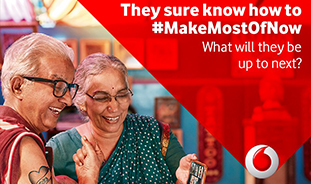 A. Both of us are quite adventurous in real life too. Vodafone found a perfect match in us! In our art circle, we are known as "ideal couple" off- and on-stage. Naatya practice has prepared us to be disciplined, devoted and dedicated to whatever we undertake to do. Confidently, we can say we are role models for both the young and seniors alike, with our enthusiasm in leading a happy life – at home and on stage.
In terms of the role of advertising; ad campaigns with clear positive messages can definitely change public opinion and educate, enlighten and entertain the public, and influence society to a great extent to lead a better and normal life. Let alone the commercial aspect it; if slogans could touch the heart with moral values, society would take lessons from good, aesthetically-designed advertisements.
---
"Both of us are quite adventurous in real life too.
Vodafone found a perfect match in us!"

---
Q. You both have enjoyed public and critical acclaim for decades. Your excellence in your art has earned you recognition from across the world.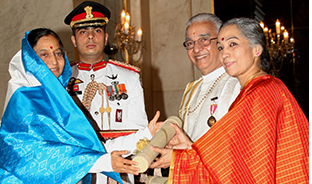 Considering the stature you enjoy, was it easy to shift tracks and accept the offer to star in such a high-profile ad campaign? Was there any hesitation, or was it easier to accept, as you were already seasoned artists?
A. We did not change track at all; this modelling assignment was only a different experience, and an opportunity for us to understand a different field of art. We accepted it with dignity and decorum. The director and producer of the Vodafone campaign conceptualized and shot the whole campaign in a dignified manner, and treated us with utmost respect and dignity. Artistically, we were confident about executing our work with aplomb.
Q. What was the key driver for your decision to be part of the campaign? Certainly not the recognition or fame, as you already enjoy so much of it. What got you to agree?
A. The key driver was the urge to know the nuances of a different field of filming and acting, and experiencing how the make-believe world of celluloid works. Work is worship. We believe in whatever we do, do it with sincerity and integrity, and give our best to make sure the work is perfect and precise.
Q. This is perhaps one of the rare instances in Indian advertising where renowned personalities have come on board an ad campaign as 'actors' (and not as celebrity endorsers). Did the thought ever cross your mind that viewers who are already aware of your body of work would not accept you as a regular couple holidaying in Goa?
A. Yes, initially we were apprehensive about the public accepting our "out-of-field action", but on the contrary, everyone around the world showered encomiums on us for boldly venturing into such an endeavour. People wondered how we could act naturally, without a trace of being celebrated Bharatanaatyam artistes, but just as Asha & Bala, a normal couple. Kudos to the director, Prakash Varma, who successfully directed us to enact the roles of a normal man and wife, taking away the celebrity status from us.
---
"People wondered how we could act naturally, without a trace of being celebrated Bharatanaatyam artistes,
but just as Asha & Bala, a normal couple."

---
Q. We see several ads where experienced actors & models attempt to 'create' chemistry, but don't really get it right.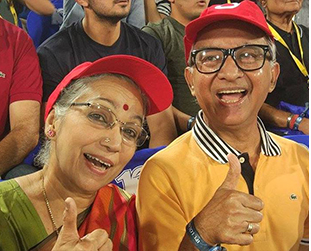 The chemistry between you two non-professional actors, however, is just so believable and easy on the eye. Is that also how you both are in real life? Was it tough to maintain that natural appeal and chemistry in front of the camera, and across multiple takes spread over a week of shooting?
A. In real life, too, we have good chemistry in understanding each other, with a give-and-take approach and attitude. So, it was not difficult to live the roles given to us. Director Prakash Varma gave us a lot of freedom to act in our own way, and guided us on how to face the camera and act naturally. The multiple takes shot in different angles did not bother us, deter us or reduce our enthusiasm. Throughout the eight days of the shooting schedule, we kept our cool, without giving the Nirvana film unit any anxiety by losing our patience, showing any fatigue or losing interest. Actually, we kept the young unit energized, and handled them with care.
Q. As consumers, which are the brands that you admire the most. Why?
A. No such preference, but I have been using Vodafone from the time I started using a mobile phone.
Q. Your Wikipedia page states that you are , and impart the same learning to your Bharatanaatyam students. Indian advertising, however, is reflecting Western values and lifestyle more strongly than ever before. How can the gap be bridged? How can Indian tradition and culture be made more accessible and appealing to the youth of India? Can advertising play a role?
A. Advertisements, films and media can play a greater role in giving appealing education; unfortunately, many people from these fields have misconceptions about our art and culture. Probably the education system prevailing in the country has failed to make the younger generation understand the value of our art and culture. 'Education without character is like a body without head' is an ancient saying. Our schools and colleges do not give proper attention to character-moulding. An art-integrated education would have helped our 'Bhaaratam' and its citizens guide nations of the world. 'Bhaaratam' also means "a country that expels the ignorance of the world" – a meaningful name that was belied with a foreign-coined name, 'India', with no meaning to it.
Q. Lastly, a question that is more personal in nature. We have seen you not just in the Vodafone campaign, but several other videos and photos on different websites. Both of you are always so positive and energetic. What's the secret?
A. No secret whatsoever! An open mind with clean virtues of life – live and let live! 'Always think positive and let not negative thoughts prevail upon us' is our motto in life. 'Lokaa samasthaaha sukhino bhavanthu' – let everyone live happily and peacefully. Our life should be peaceful, ease-full and useful.
Our take
Right from its initial years, Vodafone India (even in its 'Hutch' avatar) has been known for advertising that puts a smile on people's faces. Over the years, they have continued to find creative ways to achieve that objective and keep us hooked to the brand. However, what they have achieved with the recent #MakeMostOfNow campaign goes beyond their previous achievements:
Casts senior citizens in one of the biggest multimedia campaigns in recent times, something that not many brands have done
Breaks stereotypes about the portrayal of senior citizens in advertising, without challenging or alienating younger audiences who form the core TG of most telecom brands
Establishes beautifully that 'youth' is not an age, but a mindset (we foresee many other brands taking this route in times to come)
Still manages to make us believe that the couple in the ads is just another normal couple, even after we know who they really are
Shows the benefits of taking risks (wonder who mustered the courage to approach the much-revered Padma Bhushan awardees to act in an ad campaign!)
(Disclaimer: The views expressed by the interviewee are purely from a knowledge-sharing perspective, and are not to be seen as an endorsement of White Cloud Brands or its services.)