SIMPLIFYING complexity
How we worked with one of India's leading CLM companies on defining their brand essence.
Background
The Tata Group is one of the world's most respected brands. To millions around the world, it is a symbol of leadership, trust, good governance and social responsibility. It can safely be said that the Tata brand is the group's greatest asset.
As such, in November 2013, when one of their group companies – Tata Business Support Services (Tata BSS) – decided to relook at their brand essence as a means of determining their future course, it emerged as a project of immense strategic importance and organization-wide impact.
Tata BSS sought White Cloud Brands' support on the project. Our prior experience in working with companies in the BPO space was a key determining factor.

Business Challenge
With a wide range of services being offered to 100+ clients by the (then) workforce of 12,000+ associates,Tata BSS clearly meant different things to different people – assurance, flexibility, scalability, client-focus, etc. In this scenario, how could we zoom in on just one attribute/benefit that Tata BSS consistently offered to its stakeholders – clients, end-customers, associates and society?
Additionally, the brand essence had to meet the following criteria:

be true to the current Tata BSS brand (to ensure believability and buy-in)
be representative of Tata BSS' ambitions (to be future-ready)
be energizing enough for internal stakeholders to 'live' the brand (to ensure that the brand essence and brand experience were in sync)

Client Brief
The client wanted the project to

involve all key internal stakeholders, so as to help build consensus
factor in enough rigor to cover all bases relevant to the process, and
be documented at all stages to showcase the process at a Group level
Approach & Concept
We adopted a robust process-driven approach to meet client requirements and deliver a brand essence that would hold the client in good stead:

Step 1:

Internal Assessment (interviews with leaders & associates and evaluation of documents such as client surveys, group publications, internal surveys, etc.)

Step 2:

External Assessment (secondary research on the industry, competitors, end-customers, etc.)

Step 3:

Desired State (comparison between steps 1 & 2 to zero-in on the attributes most desirable to Tata BSS' stakeholders)

Step 4:

Option Evaluation (sharing of multiple brand essence options, and evaluation by the client)

Step 5:

Proliferation (finalization of the brand essence, and proliferation to stakeholders)

After multiple levels of deliberations, the client zeroed-in on the brand essence of 'Let's Simplify'. While seemingly simple, this brand essence held relevance across stakeholder groups:

Clients:

An assurance that we would go to the root of their business challenges, evolve simple solutions and roll-out plans in a no-frills, no-fuss manner

End-customers:

A promise to provide quick, to-the-point resolution for their issues, and help them simplify their lives

Associates:

A one-point agenda for associates to live by – "if a process is complicating the end-customer's life instead of simplifying it, change it!"

Society:

A continuation of Tata BSS' philosophy of providing opportunities to the under-privileged, and as a result, simplifying multiple issues such as unemployment, women emancipation, rural migration, etc.
Results
Since the start of 2014, 'Let's Simplify' has emerged as a rallying cry in Tata BSS. Across team meetings, client discussions, communication collateral, etc. the focus is on how Tata BSS can play the role of a simplifier in an increasingly complex world. This message has resonated extremely well with clients, who are facing the challenge of providing demanding customers resolutions to their issues in a simple manner. Moreover, this brand essence works extremely well in a scenario where the end-customer himself is changing rapidly – the way he buys, the way he engages with brands, the way he airs his grouses, the way he expects resolution, etc.
Tata BSS has since sustained and built upon this brand essence, as it continues to hold relevance in fast-changing times.
Click here to read the Tata BSS blog on the brand essence project: https://www.tata-bss.com/in/blogs/evolving-the-brand-identity-of-tbss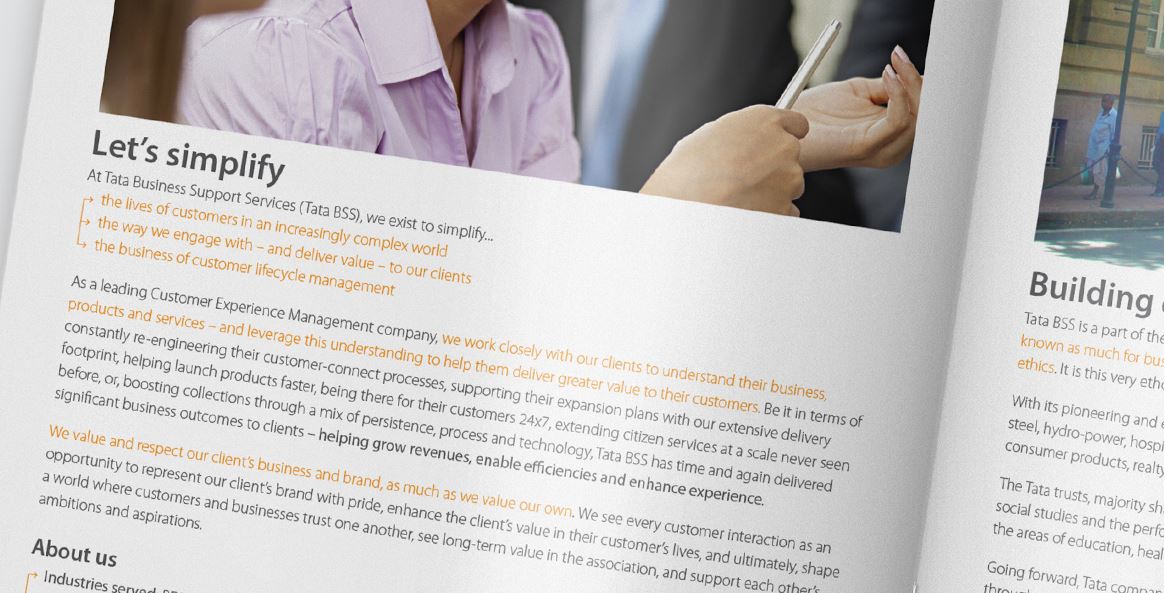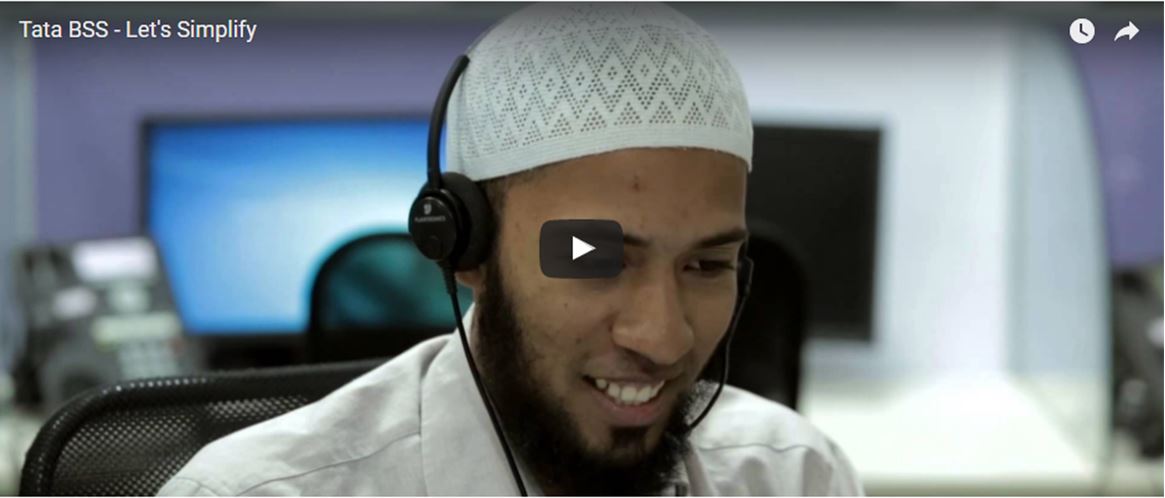 Testimonial
"We hired White Cloud Brands in 2013 to help us define our brand identity as Tata BSS was re-discovering itself. We knew it was going to be challenging if not an impossible thing to achieve in less than 60 days. But White Cloud did it in that time and the end-product was well-researched, creative and received wide acceptance in the company. We hired White Cloud Brands again in early-2014 to conceptualize and design our brand elements and key corporate collateral, and they did a smashing job, yet again.
White Cloud Brands truly lives up to its brand - Getting Things Done. They are now our trusted brand and marketing consultants and highly recommended."
Chief Marketing Officer, Tata Business Support Services